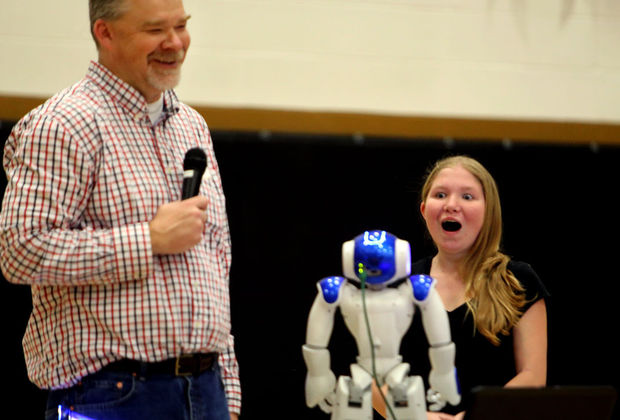 All across the state, computer science enrollment at universities has increased.  In fact, over the past two years, MSU, Montana Tech, and U of M have seen increases of 53 percent, 54 percent, and 27 percent, respectively.  That is huge news, and it's encouraging to see that the various efforts we've made investing in high tech education are paying off.
For example, Looney the Robot presentations have been given by MSU's Hunter Lloyd to over 150 K-12 schools in the state to encourage studying high tech at a young age.  The Joy and Beauty of Computing classes continue to offer high school students the opportunity to fulfill entry level university electives in high school (and teachers are able to get better equipped for teaching these classes through a summer program at MSU).  CodeMontana has expanded and is now run by Montana Tech.  And MSU is expanding it's CS program by creating additional CS professorships.  With the help of some very dedicated teachers, professors, and administrators, all of this has happened in just the past two years.
But what does this mean for the future of Montana?  You may recall a recent University of Montana Bureau of Business and Economic Research survey that found that Montana's high tech sector is growing 8-10 times the rate of Montana's overall economy and producing jobs that are double the state median salary. It also found that Montana's high tech employers rate their inability to find qualified talent as a top impediment to growth. In 2013, there were only 40 computer science college graduates in the entire state of Montana.  However, a growth in CS enrollment means more CS graduates in Montana, and more Montanans able to find high-paying jobs here in the state after college.
Plus, tech companies mostly employ non-techies in sales, marketing, accounting and administration staff, creating opportunities for many types of people.  And as these employees spend their higher wages homes are built, creating trades jobs, and entire communities thrive.
John Paxton, Department Head of the MSU Computer Science Department, notes, "It is important to introduce greater numbers of K-12 students to the exciting world of computational thinking and computer science. By doing so, these students are prepared to enjoy impactful, meaningful, in-demand careers in the 21st century, while contributing to the growth of Montana's high-tech economy."
Yet the buck doesn't stop here.  I'm thrilled to see the tremendous growth in Computer Science students statewide in the past two years, but we can do more.  Computer science should be in every high school across the state.  Now that we have the programs in place, we can expand them to reach every student.  If we work harder to prepare our young people for the future, they'll find even more high-paying jobs right here in Montana.