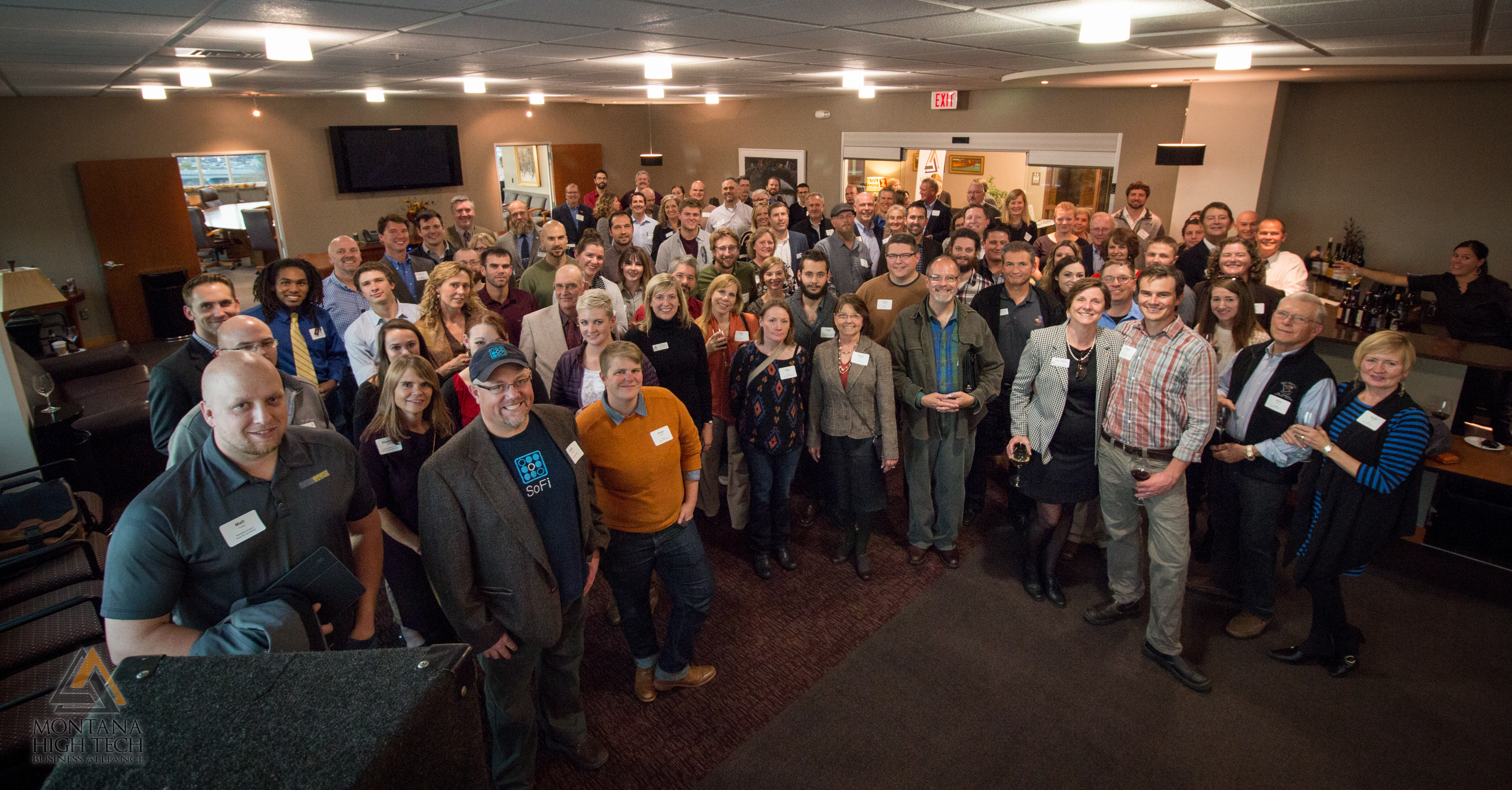 The Montana High Tech Business Alliance is a statewide association focused on creating more high-paying jobs in Montana.  Its members enjoy benefits such as networking with other high tech and manufacturing companies, increased visibility across the state, and an online jobs portal recruiting tool.
A study commissioned by the Alliance earlier this year found that the high tech industry is currently 10 – 15% of the state economy, growing 8 – 10 times faster than the state economy and producing jobs twice the state median wage.  But this benefits more than technical people.  The high tech industry creates jobs for non-techies as well in sales, marketing, and administration, and these higher-wage jobs then create jobs in the community in construction, real estate, restaurants and retail.
Recently the MTHBA hosted a member reception in Missoula, where it made some important announcements.  Here are some highlights from the reception, and the progress of the Alliance since its beginning last year.
Since its launch in April 2014, the Montana High Tech Business Alliance has grown from 20 founding members to more than 230 member firms.
The October 22 reception in Missoula was the last for 2015, but there will be five receptions in 2016: Bozeman, Billings, Butte, Kalispell, and Missoula. (All dates to be determined)
The Alliance launched a new Board of Advisors on October 22, adding 30 representatives from member firms across the state to its leadership team in addition to the current seven on the Board of Directors.
Also on October 22, it launched its second annual High Tech and Manufacturing Industry Survey with the University of Montana Bureau of Business and Economic Research. Last year they had around 100 member companies take the survey, and this year they expect 200 respondents. The report with the results from this survey should be available in early 2016.
The Alliance maintains a high tech jobs portal with around 80 jobs from member companies at any given time. The part-time jobs portal coordinator, Mary Mildren, works with members to make sure there are current jobs and internships in the portal. The Alliance promotes these jobs through ads in alumni publications, social media, and in-person visits to classrooms and job fairs. Job seekers can subscribe to an email list for weekly updates.
The Alliance continues to publish its own e-newsletter with original feature stories about Montana's high tech and manufacturing industry, news and events. Folks can subscribe to this newsletter for weekly updates as well.
If you are a high tech or manufacturing company in Montana that has not yet joined the Montana High Tech Business Alliance, I encourage you to do so!  Non-tech companies can also join as affiliate members. This organization is making great strides in bringing high-paying jobs, and awareness of high-paying jobs, to Montana, and there is no time like the present to participate.